Us humans have inhabited Earth a long time, leaving behind many remnants of the past and historical nuggets along the way. While it's common knowledge that many incredible discoveries have been made in fields and deserts, and the like; some equally intriguing archeological finds have been made from the gardens of normal folk like us. Maybe you are sitting on a skeleton dated back to Ancient Greece, or even a couple of bows & arrows from the battle of Hastings. There's only one way to find out if you are housed on top of the lost city of Atlantis, and that's to excavate your whole property! However, if you don't fancy getting the bucket and spade out of the shed in effort to find Tutankhamun's favourite handkerchief, have a look what these folks dug up at home...
Not got a Cranium Clue!
Recently in a neighborhood swimming pool in Orlando, a contractor stumbled upon two sinister looking skulls. However, these skulls are not of this time whatsoever – but date back to 1200 AD judging by the pots that were with it (and the extra 'Inca' bone both skulls possessed). The biggest mystery, however, is that how the skulls became wrapped in an English newspaper which was dated 1978.
credit: chillghetti
Treasure trove
In a back garden in the London borough of Hackney in 2007, a treasure trove consisting of antique gold coins were dug up. In the stash were 80 gold $20 coins dating back from the years 1854 to 1913. On eBay the going price for one of these little rascals is about $2500, so they are truly a goldmine! Read a fascinating article on how these coins came to be in Hackney, here.
credit: Messent
Something Slightly Bigger
'Finding pots and belt buckles are for novices!' is what Les and Sheila Holmes must have thought when they made a huge discovery in their back garden, in the form of a genuine World War II air raid shelter. Following a spot of gardening, the elderly couple became puzzled at what lay beneath and invited relatives round to dig up 70 tonnes of garden for them. The bunker lays 6 foot deep, and now takes up most of their garden.
credit: Steve's Wildlife
Gone Fishing
In 2011, an Austrian man was attempting to enlarge his back garden pond when he made a fantastic discovery. Laid in the foundations of the pond were old artefacts dating back to the Middle Ages – gold plates, bangles, pearls, rings. The net worth of the set was estimated at $150,000. It is speculated that the treasure came from a trader, who had tried to hide his wares at the hint of conflict.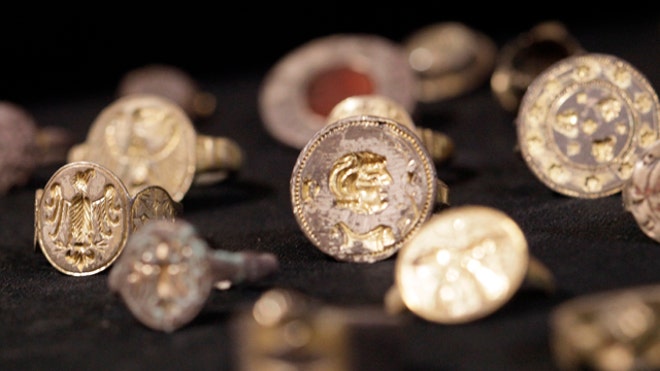 credit:
foxnews
An Explosive Find
Recently in March 2012, a pensioner with a hobby for metal detecting took to his own back garden with vigour. When his device started bleeping he dug the ground up, only to realise he may have just gotten more than he bargained for. John Marriot of Bexley, London had dug up an old World War bomb by accident and had to be evacuated from the premise and wasn't allowed back in his property till 7.30 the next day.
credit: Ben Sutherland
Farming for Gold
One day in misty Britain, a farmer with a metal detector also decided to try out his own land. What Dave Crisp of Somerset would discover was 52,500, in total, of bronze and silver coins dating from the 3rd century AD. The set was valued at around 1 million pounds. The coins had once belonged to the Roman emperor, Carausius, who was killed by his finance minister. If anything, this should inspire you to go out and buy a metal detector!
credit: Wikipedia
Roman Remains
Builders at a house in Dorset dug a little too far and found human bones, which, experts say, could date back to the Romanic era, making them thousands of years old. The bones are currently being tested at Bournemouth University, in effort to collect information.
N Stjerna
In conclusion, you can see that perhaps it is worth investing in a metal detector to examine your back garden with. History is all around us, so you would be kicking yourself if you are sitting on a vast amount of treasure, just like some of these guys were!
Article written by Karl Reign of
Policy Expert's home insurance
team. For impartial advice and guidance on any type of home insurance claim,
check out their site
for more details.